Wilfred Ambrose McArtor1,2,3
M, b. 14 February 1867, d. 13 November 1957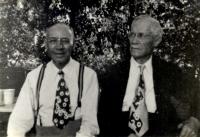 Chester O. McArtor (left) and Wilfred Ambrose McArtor (right)

Myrtle Eldora McArtor1,2,3
F, b. 19 February 1869, d. March 1902
Benjamin Franklin McArtor1,2
M, b. 12 March 1876, d. 12 March 1944
Clifton B. McArtor1,2
M, b. 4 June 1888, d. 28 March 1946
Mary Alice McArtor1
F, b. 14 November 1872, d. 4 February 1873
Chester Orlando McArtor1
M, b. 28 September 1880, d. 10 October 1965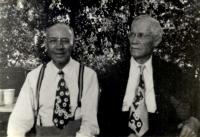 Chester O. McArtor (left) and Wilfred Ambrose McArtor (right)
Laura Pearl McArtor1,2
F, b. 21 November 1873, d. 23 July 1883
Citations
[S31] Pat McArtor and Bob McArtor collaboration.
[S31] McArtor researchers (various).
Katharine Levina Morris1,2,3
F, b. 25 July 1879, d. 21 November 1964
Alverta Hrone Morris1,2
F, d. 11 July 1899
Name Variation:

Verdie

Morris

Marriage*:

13 October 1891; Wilford was 24 at first marriage according to census, Columbiana Co., CA; Principal=Wilfred Ambrose

McArtor

1,2

Death*:

11 July 18993
Citations
[S31] Author unknown.
Mary Etta Moore1
F, b. 28 February 1874, d. 3 January 1954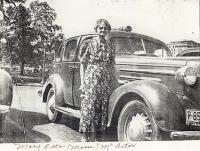 Mary Etta Moore McArtor